You are hereOn the trail of the First World War
On the trail of the First World War
---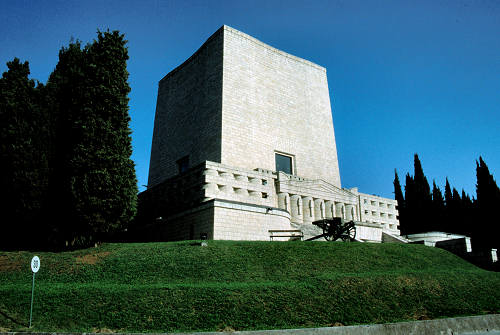 SATURDAY
One of the most tragic places in our history, a territory that extends from Mount Grappa river Piave, where between 1917 and 1918 the soldiers of the Royal Italian Army, supported by British and French troops, fought with the Austro-Hungarian troops in a series of bloody and memorable battles.
Tens of thousands of Austro-Hungarian soldiers died in an attempt to go down, to the Venetian plain, tens of thousands of Italian soldiers did the same end trying to hold back the enemy offensive actions. Shortly after
The whole mountain was called
Italian Military Cemetery: opened in 1935, it offers great impression to visitors with a series of concentric circles open to the south, as to recall theplain, strenuously defended for a year.
The exciting and poignant sequence of names and niches gives way to thetomb of General Giardino, who asked to be buried "among his soldiers to celebrate all fallen.
The chapel in the summit, Madonnina del Grappa, place of devotion even before the conflict.
To the north the "Via Eroica" celebrates the names of the main peaks of the massif, fiercely affected by the war. Immediately after there is the Austrian Cemetery which houses the remains of 10,000 dead, among them the touching tomb of the soldier Peter Pan.
Trenches: restored thanks to the work of volunteers and the support of local authorities, the trenches of Monte Palon allow you to experience the rawness and simplicity of the dramatic battle stations (in the month of September there is a striking representation with about 25 fire position: Day in Grey and Green)
Walking between firing positions and tunnels, follow the narrow trenches along the side of the mountain, profoundly affects the mind and helps to imagine the hardships of the soldiers.
During the war, the area of Palon was garrisoned by artillery pounding the eastern sector of the front, while the trenches closed the way to possible actions by surprise from Alano base.
The museum housed in the historic barracks Milan provide a projection room.
A local guide will be available to explain the events upon reservation.
To follow visit of Bassano del Grappa and Ponte degli Alpini or Ponte Vecchio and the War Museum, visit and tasting at Poli Grappa Museum.
Dinner in a typical restaurant.
SUNDAY
Breakfast at the hotel.
Day trip in one of the most significant Great War places: the French Cemetery of Pederobba , stop in Valdobbiadene for an aperitif of Prosecco wine, and follow to the scenic route between the river Piave and the Montello.
Stop for lunch in a local restaurant by the green hills of Treviso.
Continue with a visit to the Military Memorial of the Battle Nervesa on the banks of the historic river Piave, to get to the monument to the Fagarè della Battaglia a symbol place of the "Piave whispered ...".
Dinner in a typical restaurant in the area.
**** Hotel San Giacomo Sport & Relax****
Piazza Martiri 13 31017 Paderno del Grappa TV Italy
tel. +39-(0)423-930366 fax +39-(0)423-939567
www.hotelsangiacomo.com info@hotelsangiacomo.com